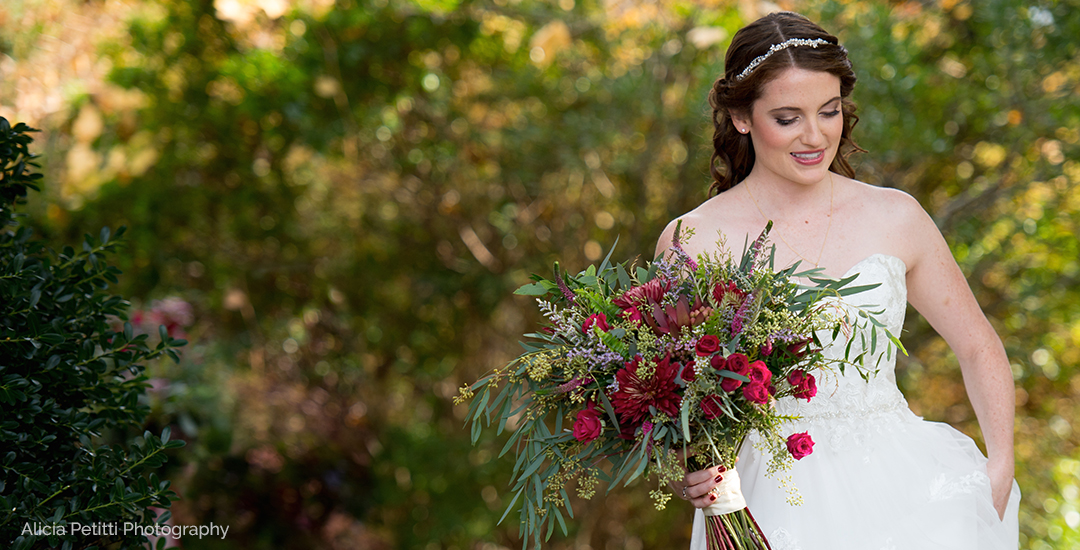 What clients are saying..
WORTH EVERY PENNY!!! One of the biggest things I kept saying was that I wanted to have someone who would make me feel relaxed and comfortable the morning of our wedding! Andrea did just that! I felt like I was hanging out with my best friend all morning. We laughed (a lot) and talked about everything! My makeup was flawless, and wasn't over the top. It was the most beautiful I've ever felt, and when my husband saw me he was blown away! He was so worried I would be overdone, but I was just the best version of myself! Andrea is just a wonderful person who happens to be a FANTASTIC makeup artist!
I truly lucked out when I found Andrea's professional makeup service for my wedding. Andrea has years of artistic experience, uses very high quality products, and carries herself with a calm, witty, and tranquil demeanor. If you are looking for an elegant, naturally glowing look, this is your woman! I cannot say enough about how she was a true breath of fresh air during our hectic morning of wedding preparations. She was even able to completely cover the hormonal breakouts that decided to appear that day, blending everything perfectly. My skin looked dewy and flawless in my wedding photos. I would highly recommend contacting Andrea for your wedding makeup—she is definitely the one to beat!
I found Andrea through my wedding hair stylist, and thank goodness I did! She is so incredibly talented and will listen to what you want, making sure you are 100% happy with your look. She also did makeup for my bridesmaids and my mom, and each of them looked stunning! It was so special to have everyone feel so beautiful and confident. Andrea also is such a kind, lovely person—my bridesmaids, mom and I all agreed that it was a gift to get to spend the day getting ready with her! If you have the opportunity to book Andrea, make sure you do so ASAP!
I had the pleasure of working with Andrea for my wedding! Kind, professional, sociable, caring, talented, upbeat, and passionate are just some of the words that come to mind when I think of Andrea. My makeup was everything I dreamed it would be! Andrea is beyond talented! My makeup looked just as amazing at 10pm as it did at 6pm. My lashes…perfection! Air brush…outstanding! Lip color…on point! Contour…amazing! Eyes…forget about it! Just total insanity! Thank you, Andrea, for being a part of my special day and for making me feel like the most beautiful bride! I highly recommend Andrea to all future brides! You will not regret it! Now I just need to find another reason to have Andrea do my makeup again…
Andrea is an absolute genius with makeup. I have never felt more beautiful in all my life. And beyond just the finished product, her professionalism and warm personality made the entire experience—from trial to the big day—an absolute pleasure! I highly recommend Andrea for your special day—you'll feel like a princess too!
There aren't enough stars to give Andrea! She applied my and my daughter's makeup for her wedding last month, and, as one of the other reviewers said, Andrea brings out the best version of her clients! My daughter wanted a natural, dewy look for her outdoor wedding. She looked absolutely beautiful! She made me feel beautiful as well! Andrea is also a lovely person, beautiful inside and out. She really listens and makes you feel very special! I wish she could do my makeup everyday!
Absolutely amazing! I loved working with Andrea. She is so kind, professional and responsive. From the very beginning she made me feel beautiful and confident. On my wedding day she gave me my zen moment. My mom and bridesmaids love the whole experience and final product. The makeup was flawless and felt fresh all day. I danced, cried and sweat and the makeup still looked great at the end of the day. Honestly, one of my favorite vendors to work with. Her attitude and the quality is just impeccable. Stop searching and book her ASAP.
I wish I could give Andrea more than 5 stars. She was more than I had hoped for as a wedding make-up artist. I was anxious, but her calming personality helped me feel so much better. Aside from being a sweet person, her makeup style is natural and long-lasting – she knows how to enhance your natural beauty. On my wedding day, from 9am until 11pm, my make up was flawless. I only did a quick powder touch up before our after party. When I put my dress on and looked in the mirror I started to tear up because of how beautiful she made me look! I am so grateful that I found Andrea!
Andrea is a makeup genius. I got so many compliments telling me that my makeup looked as flawless at midnight as it did when I walked in six hours earlier. I got married on a particularly humid, hot Cape Cod day, where it rained for several hours ahead of photos, and I looked fresh-faced throughout the day. I am a person who does not wear a lot of makeup, and I wanted a very natural look, and Andrea just nailed it. She is also such a calming person to have by your side while you get ready on the big day. 
If there were a 10 point scale, Andrea and her team would meet this standard, easily! Andrea is a true professional. She will make you look your ultimate best for your special day, so much so that you will want her to do your make up everyday! If you want to look your best on your wedding day, I would hire her again. Amazing!
Andrea is the best! She is extremely talented and I felt so beautiful and confident on my wedding day! She used the airbrushing technique on me, and my skin looked flawless. Highly recommend it. Equally (if not more) important, she is kind and has a great sense of humor. Andrea has a very calming energy – exactly who you want around you on your wedding day!
So pleased to recommend Andrea! I have never liked having my make up done professionally, and usually end up redoing it myself. Needless to say, with make up, I am overly picky. With Andrea, I loved the make up and didn't even want to wash my face at the end of the night. I asked for a very natural look with a subtle eye and that is what she gave me. I also did airbrushing, which I was nervous about but it looked completely natural. All of my bridesmaids used her as well, and they looked stunning. Couldn't have asked for more!